What is a Virtual Point of Sale System?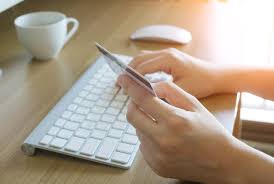 Having the ability to take credit card payments as a business is a necessity in today's market. Consumers want the opportunity to utilize a fast, easy, and convenient form of payment. This extends to the majority of their transactions, from significant purchases to everyday spending.
For some businesses, though, the need to accept credit card payments comes with challenges. Receiving credit card transactions without being face-to-face with the customer is not possible with a traditional payment reader. Instead, the innovation of virtual point of sale systems allows businesses to accept card payments virtually.
Defining VPOS (Virtual Point of Sale System)
A virtual point of sale system works in a similar fashion to a traditional point of sale terminal. Merchants accept payments through the Automated Clearing House (ACH) network or via credit card. The notable difference setting virtual point of sale systems apart is the fact that they do not require a customer and merchant to be in the same place.
A VPOS provides the merchant the ability to enter credit card details for a transaction virtually. This is done either over the phone or by way of other electronic communications. There is no need to physically swipe the credit card when a virtual point of sale system is in place.
Virtual point of sale systems do not require additional hardware, like a card reader, to operate efficiently. They are easy to set-up with a simple web-based or software platform. This allows for the input of the credit card details virtually by the merchant. The card network is contacted once the information is typed into the system. Then, payment is authorized as it would be with a physical card reader or a payment gateway. The framework of virtual point of sale systems provides merchants a mechanism for working with customers and clients remotely and securely.
Businesses that Benefit from VPOS
Payment gateways are typically used for brick-and-mortar merchants. However, businesses that operate either online or in a location where customers do not frequent are more prone to utilize virtual point of sale systems. Some industries that benefit from the use of VPOS include:
Contract or freelancer workers who manage billing over the phone
Food delivery or courier businesses that require payment before delivery
Small local companies that require payment from clients or customers for services performed, such as accountants, attorneys, or consultants
Product-focused businesses, such as a sign company or design firm that accepts credit cards for deposits or final payments
Any businesses, regardless of its size, may prefer the benefits of a virtual point of sale system. This is especially true if it needs to collect payment without the customer physically present. These transactions are known as card-not-present payments. They now make up a significant portion of revenue for some companies. Without the ability to accept credit card payments, businesses could lose out on new customers if a virtual point of sale system is not in place.
Security and Processing of Card-Not-Present Transactions
Virtual point of sale systems offer a slew of advantages to remote businesses. However, concerns with the safety and efficiency of card-not-present transactions exist.
Fortunately, VPOS offer both security and compliance for credit card payments, no matter where the customer may be. Virtual point of sale systems rely on payment gateways and secure software programs to ensure the data remains secure. Payment details are  encrypted or tokenized before and during transmission to the card network. This makes it more challenging for bad actors to steal the information and use it for malicious purposes.
Virtual point of sale systems have security at the forefront, but still, risks remain. Merchants should be careful to have the VPOS up and running when a customer calls with payment details. This eliminates the need to write down the credit card information and then input it into the system at a later time. Storing credit card details in this manner is a surefire way to increase the risk of theft or fraud on customer cards.
It is also important to note that some card-not-present transactions cost more than physical card acceptance. Businesses should weigh this disadvantage against the benefits inherent to virtual point of sale systems.
The ability to accept credit card payments from anywhere is a gamechanger for many companies. Virtual point of sale systems make this a reality.  They offer the same speed and security as physical card readers. Adding this type of payment acceptance for transactions is a smart way to boost revenue. However, fully consider the risks and costs of virtual point of sale systems before implementing this tool.