The Most Common Point of Sale Systems List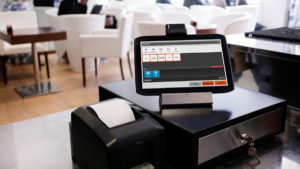 Point of sale (POS) systems allow businesses to accept payments from customers either in person or virtually. An effective POS system can make operations more efficient, help manage inventory, and keep track of the all-important dollar on a day to day basis. Choosing the right point of sale system for your business can be challenging, however. There are several different options for POS platforms, both from a hardware and a software perspective. This variety of selection needs to be considered based on business needs and budget to ensure that the right POS system is in place.
Here are the most popular POS systems available today, along with notable features and pricing structure for each.
Square POS
By far, Square POS is the most common point of sale system used by businesses. Square, a leading technology company, offers several different options for merchants in the POS space. Its free POS software is used by more than 2 million businesses around the world. Similarly, many companies utilize Square for its hardware, including Square register and the Square reader for on-the-go payment acceptance. Some of the stand-out features of Square include:
Free POS app for desktop or mobile
Free Square reader for magstripe transactions
Inventory management tools
Customer profile creation and management
Sales reporting
Loyalty program
Gift card acceptance
Payroll and marketing tools for an additional fee
Square POS hardware is often a cost-effective choice for small businesses. The register which comes with two screens and acceptance of all payment types runs $999. The terminal, which includes a receipt printer and all payment acceptance is $399. Businesses also have options for contactless and chip readers through Square, for either $35 or $49.
Lightspeed POS
Lightspeed is another POS options, designed more specifically for small to mid-sized businesses. With both retail and restaurant systems, Lightspeed POS systems offer a variety of features to help manage payments and operations simultaneously. With this POS system, merchants receive the following:
Creation and management of product bundles
Purchase order management
Built-in product catalog
Inventory management and reporting tools
24/7 customer support
Integration with client relationship management (CRM) software
Loyalty programs
Access on any device
Lightspeed POS is more expensive than other solutions, starting at $99 per month for the POS application. This price includes a single register, access for up to five employees, and onboarding support. For an iPad hardware kit which consists of a cash drawer, printer, stand, and scanner, merchants pay $699. Businesses may opt for a custom pricing plan by contacting Lightspeed directly.
Shopify
Another POS option for brick-and-mortar or e-commerce businesses is Shopify. This point of sale system is designed for multi-channel sellers as it offers a single platform for accessing inventory, customer data, and sales. Shopify offers several different pricing models, ranging from $9 to $299 per month. Based on the option selected, businesses receive the following features:
Free POS application
Acceptance of all payment types, including gift cards and store credit
Tracking of debit and credit card payments
Smartphone or tablet used to accept payments anywhere
Custom emailed or printed receipts
Free card reader
Retail and product reporting
24/7 support
Inventory management and reporting
The most basic Shopify POS plan allows for one staff account and in-person payment acceptance for $9 per month. More complex plans include reporting features, customizable payments, and online store experiences for businesses. Hardware kits are also available, starting at $229 for a card reader, docking station, retail stand, and mounting kit.
Shopkeep
Another option is Shopkeep, a POS system catering to small businesses and boutiques. Shopkeep POS is a cloud-based platform that runs on an iPad. It offers several customization options for businesses, as well as marketing tools and reporting. Some of the standard features of Shopkeep POS systems include:
Integrated inventory management
Staff management with time clock reporting
Insightful data reporting on customer sales and inventory value
Integration with CRM and accounting software
Acceptance of all payment types
Offline payment acceptance
24/7 support
Shopkeep does not post its pricing online. Businesses must call to get a quote for the POS system. However, the average price falls under $100 per month for most POS users.
Vend
Finally, Vend is another popular option among small businesses for a POS system. Vend POS offers a platform for small businesses to effectively manage sales and inventory over time. Through either web-based or iPad systems, Vend comes with the following features:
Acceptance of all payment types, including gift cards and store credit
Mobile and contactless payment options
Import of existing barcodes
Central product catalog
Real-time inventory and staff management
Sales and inventory reporting
Loyalty program and customer profiles
Accounting and CRM integrations
Vend pricing plans range from $99 to $129 per month. Businesses also have an option to request custom pricing for more extensive operations or needs. Each plan includes one register with the POS software. Additional hardware can be purchased if needed, starting at $49 per register.