Assessing Blockchain Investment Opportunities
This article was authored by Stanley Wood

Introduction
Recently, blockchain, cryptocurrencies, and initial coin offerings have become all the rage. Contributing to this interest are statements from industry watchers like Gartner whose Hype Cycle for Blockchain Business, 2019 shows that, "The business impact of blockchain will be transformational across most industries within five to 10 years." See Figure1.
Today, investors seek to identify companies with blockchain offerings that will disrupt traditional business models with new value propositions that transform industries. Both stocks and exchange-traded funds (ETFs) offer opportunities to invest in such blockchain companies. See Table 1.
Table 1
Blockchain Stock and ETF Investment Opportunities
Category
Company
Symbol
Description
Stock
Codebase Ventures
CSE:CODE,OTCQB:BKLLF
A company that is currently investing exclusively in blockchain based technology.
Stock
BTCS
OTCQB:BTCS
This company was the first
publicly traded blockchain
company in the US.
Stock
Interbit
TSXV:IBIT,OTC Pink:BTLLF
Interbit's blockchain
services are used in a
variety of industries,
including banking and
fantasy sports.
Stock
HIVE Blockchain
TSXV:HIVE,OTCQX:HVBTF
A firm that looks to create
a bridge between the
blockchain market and
traditional capital markets.
It is strategically partnered
with Genesis Mining, a
cryptocurrency-mining
hashrate provider.
ETF
Amplify
Transformational
Data Sharing
ARCA:BLOK
This actively managed
blockchain ETF was
launched in January 2018.
The fund's holdings
include companies that are
involved in the blockchain
sector.
ETF
Reality Shares
NASDAQ NexGen
Economy
NASDAQ:BLCN
Established through a
partnership between
Reality Shares and the
NASDAQ, this ETF is
focused on generating
long-term growth with a
focus on blockchain related
companies.
ETF
First Trust Indxx
Innovative
Transaction &
Process
NASDAQ:LEGR
A fund that tracks the
Indxx Blockchain Index.
This index is comprised of
international publicly listed companies that are involved in blockchain.
ETF
Blockchain
Technologies
TSX:HBLK,OTC Pink:BKKCF
Harvest Portfolios Group issued the Blockchain Technologies ETF, which was the first Canadian blockchain ETF on the market. The fund is focused on securities involved in blockchain, as
well as instruments that could include preferred shares, convertible debt and warrants.
ETF
Innovation Shares
NextGen Protocol
ARCA:KOIN
An ETF with holdings that
were selected by an
artificial intelligence powered
algorithm based
on textual analysis. The
ETF invests in companies
that are related to
blockchain across four
main categories.
---
However, before investing one should endeavor to answer two important questions.
What is blockchain?
How does one assess blockchain investment opportunities?
What is blockchain?
According to one website, "Blockchain is a system of recording information in a way that makes it difficult or impossible to change, hack, or cheat the system." A blockchain enables the storage of a transaction in a database using distributed ledger technology (DLT). DLT has the following characteristics:
Blockchain – A new transaction is recorded in a block that is linked to every preceding block of transactions; thus, creating a chain of blocks.
Transparency – Transactions and their associated values are visible to anyone with access to the system.
Timestamp – Recording transactions in chronological order enables the timestamping of each block.
Distributed Ledger – Transaction blocks form a database ledger that is distributed to all the servers or nodes constituting the network and consists of data that is under the control of no single party.
Peer-to-Peer Transmission – Servers or nodes communicate with each other directly instead of through a central node.
Unanimity – All network participants (peers) agree to the validity of each of the transaction records because each peer can directly verify the transactions of its partners without the use of an intermediary.
Immutability – Various computational algorithms and approaches ensure permanent, chronologically ordered transaction records that are irreversible and cannot be altered.
Anonymity or Pseudonymity – Identities of blockchain participants are either anonymous or pseudonymous as a consequence of a unique alphanumeric address assigned to each user.
Security – Transaction records are individually encrypted.
Programmability – Blockchain transactions can include smart contracts composed of computational logic embedded in programs.
Blockchain enables a number of use cases. An article posted on the Blockchain Council website lists the ten most promising blockchain use cases across various industry verticals.
See Table 2.
Ten Most Promising Blockchain Use Cases
Industry
Issues
Blockchain Solution
1. Supply Chain Management
* Lack of transparency during product movement along the
supply chain.
* Issues in product
authenticity causing
consumers to
sometimes receive
counterfeit goods.
*Enabling product tagging
and assignment with
unique identities transplanted onto an immutable, transparent, and secure blockchain.
*Tracking important product information such as the state of the product, shelf
life, time, and location.
2. Digital Identity
* Identity thefts and data breaches resulting from
allowing applications
and services access to
user data
* Control of access to user
digital data and how it is
used.
3. Voting
* Voter fraud
* Tamper-proof features
prevent hacking.
4. Fundraising
(Security token
offerings)
* Lack of mature
regulation of Initial Coin
Offerings (ICO)
* Security Token Offerings
(STO) require stakeholders
to legally register their
products and services with
they're respective national
regulators.
5. Healthcare
* Incomplete patient
medical history
* Counterfeit Medications
in the supply chain
* Storage of patient histories
in the blockchain.
* Tagging of medications at
every stage in the supply
chain.
6. Notary
* Ownership assets in
paper form are subject to tampering or fraudulent activity
* Immutability of blockchain
transactions prevent
alteration of records.
7. Food Safety
* Lack of transparency for foods in the supply chain resulting in increased contamination
* Quick and easy verification of history, location, and status of a particular food product.
8. Intellectual
Property (IP)
* Inaccurate and unclear
ownership of IP assets.
* Protection of IP assets
through timestamps and
immutable transactions.
9. Energy Market
* Energy Market
Centralization
* Improved efficiency and
reduced costs through
smart metering.
10. Real Estate
* Inefficient management
of rental payments
* More efficient processes
through Smart Contracts.
* Elimination of additional
inspection costs, property
taxes, and registration and
loan fees through process
automation.
What about Cryptocurrencies?
Cryptocurrencies like Bitcoin have advantages and disadvantages. According to the Security and Exchange Commission (SEC), cryptocurrencies provide the following advantages:
Ability to make transfers without an intermediary and without geographic limitation
Finality of settlement
Lower transaction costs compared to other forms of payment
Ability to publicly verify transactions
Personal anonymity
Absence of government regulation or oversight
Conversely, cryptocurrencies have the following disadvantages:
Acceptance – Unaccepted as legal tender by any nation
Usability – Difficult to use as a medium of exchange
Volatility – Volatile due to inability to receive refunds on purchased currency
Retention – Inviable means of storing value.
Criminality – Linked to illegal trade and money laundering
Performance – Slow transactions with high energy costs due to proof of work requirements
Cryptocurrencies used in Initial Coin Offerings provide the additional advantage of an alternative source of capital for offerors. However, they also have the following disadvantages:
Difficult to redeem – Offerors redeemable products and services are often ill defined.
Vulnerable to theft by the offeror
Questionable legal status
Increasing Regulatory Scrutiny
How Does One Assess Blockchain Investment Opportunities?
In order to assess blockchain investment opportunities, one can use the following assessment model:
Determine the Problem the Offering Purports to Solve
Assess Use Case Viability
Apply the Chili Sauce Use Case Framework See Figure 2.
Compare the Use Case with those in Table 2.
Determine Blockchain Offeror Capabilities
Determine the Regulation Impact
Figure 2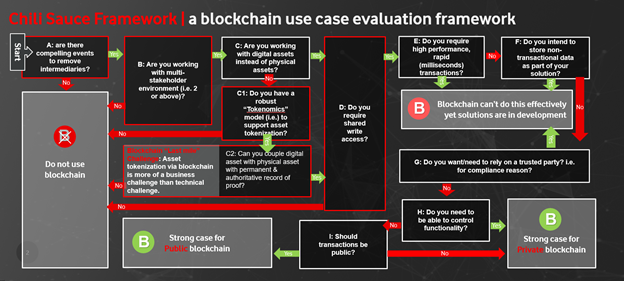 The Chili Sauce Framework provides a basis for a go/no-go decision for blockchain use cases.
Use Case Examples
We now apply the aforementioned model to analyze the blockchain investment opportunities of two companies. The first is Eastman Kodak, while the second is Long Blockchain (formerly Long Island Iced Tea).
Kodak Assessment
Determine the Problem the Offering Purports to Solve

KodakOne – Use Blockchain to help photographers create licenses for their images to prevent copyright violations. According to a NY Times article, "In theory, photographers will be able to upload their images to a platform called KodakOne, create a blockchain-based license for each image, and use web crawling software to scour the internet looking for copyright violations.
KodakCoin – Photographers can receive payments from clients in KodakCoins instead of dollars
KashMiner – Photographers can generate cryptocurrency revenue through proof of work validations performed on rented KashMiner servers
Assess Use Case Viability

Apply the Chili Sauce Use Case Framework See Figure 2 –

KodakOne – Strong Case for either a Public or a Private blockchain
KodakCoin – N/A
KashMiner – N/A

Compare the Use Case with those in Table 2 –

KodakOne – Comparable to the Intellectual Property use case
KodakCoin – N/A
KashMiner – N/A
Determine Blockchain Offeror Capabilities

KodakOne – Kodak does not provide a compelling reason for photographers to use KodakCoins instead of dollars
KodakCoin –

Exchanging KodakCoins for dollars may prove problematic
Kodak offers photographers a tenuous opportunity to:

Share in KodakOne's revenue
Access a "marketplace" that enables them to spend their KodakCoins on camera equipment, studios for photoshoots, and travel expenses.

KashMiner –

Revenue projections from the use of the KashMiner machine are likely inflated
KashMiner appears to be a rebranded version of a popular Bitcoin mining machine having a purchase cost that is less than the rental cost
Determine the Regulation Impact

KodakOne – N/A
KodakCoin –

Lack of mature regulation of Initial Coin Offerings (ICO)

KashMiner – N/A
Long Blockchain Assessment
It is not possible to apply the assessment model to Long Blockchain (formerly Long Island Iced Tea), because according to a techcrunch.com article, Long Blockchain had not yet defined its blockchain offerings. So although its name changed, its game remained the same. This causes one to wonder if Long Blockchain was interested in exploiting the hype of blockchain in order to pump up its stock price which rose after the name change.
Recommendation
Based on the results of applying the blockchain assessment model to Kodak and reviewing the incomplete product offering information of Long Blockchain, one would not recommend either Kodak or Long Blockchain as viable investment opportunities.
Conclusion:
Despite the hype concerning blockchain, one can assess blockchain investment opportunities by using the aforementioned assessment model of:
Determining the Problem the Offering Purports to Solve
Assessing Use Case Viability
Determining Blockchain Offeror Capabilities
Determining the Regulation Impact
Bibliography
https://hackernoon.com/breaking-blockchain-a-framework-to-evaluate-blockchain-usecases-9efbc30a3fa7
https://medium.com/@ssaurel/14-cryptocurrencies-addressing-real-world-user-issues-toconsider-when-investing-6b2ad20e04b2
https://www.sec.gov/news/public-statement/statement-clayton-2017-12-11#_ftnref8
https://www.forbes.com/sites/darrynpollock/2019/06/06/kodak-unveils-blockchain-baseddocument-management-platform-for-business-claiming-40-cost-saving/#5283d083245a
https://www.finivi.com/how-to-make-money-with-blockchain/
https://www.inc.com/will-yakowicz/the-4-most-ridiculous-digital-coins.html
https://cointelegraph.com/news/fbi-investigating-long-island-iced-teas-shift-to-blockchain
https://www.investopedia.com/terms/p/pumpanddump.asp
https://www.businessinsider.com/blockchain-technology-applications-use-cases
https://www.gartner.com/en/newsroom/press-releases/2019-09-12-gartner-2019-hypecycle-for-blockchain-businessshows#:~:text=Hype%20Cycle%20for%20Blockchain%20Business%20shows%20that%20the%20business%20impact,within%20five%20to%2010%20years.&text=The%20Hype%20Cycle%20provides%20an,industries%20(see%20Figure%201)
https://www.nytimes.com/2018/01/30/technology/kodak-blockchainbitcoin. html#:~:text=This%20month%2C%20Kodak%20lent%20its,photographers%20manag e%20their%20collections%20by
https://techcrunch.com/2017/12/21/long-island-iced-tea-shares-went-gangbusters-afterchanging-its-name-to-long-blockchain/?guccounter=1